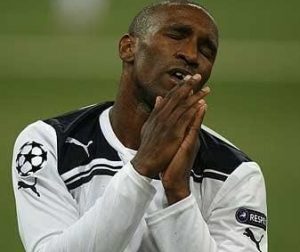 Why Bother Picking Defoe?
Gareth Southgate's first England squad since his permanent appointment was largely well received. I like the fact that he was prepared to call up players based on form and potential, but there's one rather large elephant in the room. Why the hell would we want to recall Jermain Defoe?
I know that Kane and Sturridge are injured. I also know that Welbeck has been out for about 6 years and hasn't done enough since his return to justify inclusion. But that doesn't mean we have to wind the clock back and recall Defoe. This is about why he shouldn't be in the squad, not about who else shouldn't.
Defoe is and always has been a good striker at Premier League level. I've heard countless pundits drone on about him being our "most natural finisher" although, like Andy Cole, he needs 3 chances to score. I think that in reality "natural finisher" just means he doesn't contribute anything else except for finishing. That's fine in the league, where there are chances aplenty and you get another chance to atone for a bad game a few days after. It's not fine in international football.
He has never and will never be good enough for international level. He's done nothing for England in the past, and due to his age he obviously never will in the future. He won't go to the World Cup, and we won't need him to beat Lithuania. So why pick him? It's pointless.
Andy Carroll can feel justifiably pissed off at missing out to Defoe. But if you're not going to pick Carroll then at the very least give a younger player a chance. Someone who might just seize the opportunity and then be able to contribute further down the line. Josh King, for me, would have been a much better pick.
A lot of Southgate's ideas seem good, and I'm happy to give him a chance. As fans we'll never agree with every decision he makes, but this one in particular seems like a backwards step and I hoe it'll be Defoe's last inclusion. Thanks for, well, trying Jermain, but it's time to give someone else a chance.