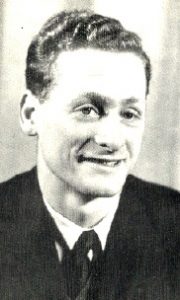 Tom Finney
Born Preston, April 5, 1922; Died 2014.
Has there ever been a footballer more synonymous with one club than Tom Finney is with Preston North End? Finney spent his entire footballing career with his home town club but the association runs far deeper than that. Finney lived in the town all his life and also established his plumbing business there. The road on which North End's Deepdale ground stands now bears his name while outside it there is a proud statue to commemorate the great mans' contribution to the club.
Tom Finney the man has earned all this respect through a lifetime of dignity and loyalty. Fundamentally, however, all the recognition he has received is due to his overwhelming brilliance as a footballer.
Although there is a tendancy to treat with scepticism the claims to greatness of players from a certain era, and despite the fact that Finney is certainly not done any favours by the poverty of existing television footage of him in action, there can be no doubting his majesty on a football field.
Indeed, among a certain age group, Tom Finney's claims to being considered as one of the greatest of them all remain strongly championed. Despite the fact that he ended his career with no major winners medals to show for his efforts the bare statistics seem to uphold his claims to greatness.
Tom Finney played 433 league games for Preston scoring 187 goals, mainly from the right wing. For all but two of the seasons he played at Deepdale, Preston were in the first division. After his retirement in 1960 the club were immediately relegated from the top flight and are still awaiting a return. In addition Finney played 76 times for England and scored 30 goals, again mainly from the flanks. Until Jimmy Greaves came along this made him his countries leading scorer.
He was also voted the Footballer of the Year in both 1954 and 57.
Yet it was not statistics that made Tom Finney great. It was his skill and style. It was also the substance he brought with it. Finney was no show pony, there was a point to everything he did on a football field. Unlike others of similar ability, and many of less, Finney would never attempt to beat a man twice if once would do. He never kept possession if a colleague was better placed. Finney realised his job was to get the ball into the oppositions' goal, either by assisting a teammate or by putting it there himself. There have been few players more accomplished in achieving this feat.
Tom Finney had already made a name for himself before he was able to make his league debut in 1946. He figured prominently in war time representative games and was brilliant as Preston won the war League Cup final in 1941.
Preston met Arsenal in that final and came out on top 2-1 at Blackburn's Ewood Park after a 1-1 draw at Wembley. North End's scrawny teenage right winger captured most of the attention after giving the Gunners' England full back Eddie Hapgood a real chasing in both games.
Hapgood himself admitted that he had been completely at a loss as how to stop the youngster with the baffling ability to dribble at full speed with the ball tied to his left boot while attacking down the right wing.
Finney's complete mastery of footballs' arts was already apparent. As a youth Finney was extremely small and had at first been rejected by Preston on the grounds of his size. His response was to train exhaustively to build his physique and hone his skills. Naturally left footed Finney practised with his right so much that he came to trust it more completely than his left. Despite looking frail Finney became as strong as an ox, was good in the air and could handle himself in a tackle. His shooting was powerful and he also had an eye for goal.
Above all else though Tom Finney was a consummate dribbler. He could go past a defender simply with sheer pace, he could defeat them with a shuffle of his dancing feet or he could leave them hopelessly off balance with a drop of his shoulder. Whichever method he chose the defender generally struggled for an answer.
This is what Tom Finney was bringing to the Preston North End first team when he made his league debut as a 24 year old as football resumed after the Second World War. He helped the club finish 7th in the first division in both 1947 and 48 as well as reaching the FA Cup quarter finals in both years.
His value to the team was more keenly demonstrated the following season when injuries restricted Finney to just over half of the teams fixtures. Of the 24 league games Finney played in 1948-49 Preston won 9 and collected 26 points. From the other 18 games, however, the club won just 2 and collected a meagre 7 points to be relegated, a remarkable variance.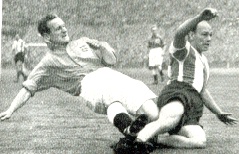 It would take two seasons for Preston to return to the first division and although Tom Finney was obviously a huge factor in the sides' march to the second division title the signing of Charlie Wayman to play centre forward also helped. Wayman was a voracious feeder from Finney's service and contributed 27 goals in 34 games following his move from Southampton.
Back in the first division Finney continued to mesmerise and Wayman continued to plunder. In 1952-53 Finney and Preston had to sit and watch as Arsenal defeated Burnley 3-2 in their final game to pip them to the league championship. The following season another 3-2 scoreline saw their hopes of FA Cup glory dashed at Wembley against West Bromwich Albion.
This was meant to be Tom Finney's day. The build up to the game had revolved almost totally around him. Matthews had won the cup for Blackpool the year before and now Finney would sweep all before him and win it for Preston.
The script had been written but no-one cared to read it. By his own admission Finney turned in one of his most lacklustre displays. Perhaps the hype had got to him. He would also refer afterwards to having felt drained even before the game started.
What was never apparently taken into account either before or after this game was the fact that West Brom finished runners up in the league that season whereas Preston managed only 11th. Tom Finney himself played in only 23 of North End's games in Division One as he struggled continually with injuries, although he had turned out in all eight of their cup ties.
It must also be taken into account that West Brom knew all about the danger Tom Finney posed even without the overbearing media coverage. Two men shadowed his every move and his influence was kept to a minimum.
Finney still managed to assist in the build up to the highly contentious goal with which Wayman put Preston 2-1 ahead though and defeat was more the responsibility of defensive mistakes which helped the Baggies along the way to their last minute victory.
Some consolation came Finney's way as he was voted Footballer of the Year for 1954, an honour that would come his way again in 1957. This second award came in remarkable circumstances. Preston suffered a dismal start to the season losing their first four games. Finney was taken from the wing and moved to centre forward. The effect was devastating.
Roving intelligently to find space Finney was able to bemuse defences accustomed to dealing with strapping target men every week. Playing inside the great man, Tommy Thompson helped himself to 26 goals. Finney was no slouch himself, finding the net 23 times in his 34 games as Preston rallied to finish 3rd.
The following season Preston finished as runners up, albeit a distant 2nd to Wolverhampton Wanderers, and Finney banged in 26 goals from his 34 games.
His impact made observers wonder why he had spent his career standing out on the wing relying on others to give him the ball. Then they remembered the devastation he had caused from that position and were thankful for having witnessed such genius. Finney sometimes reflected on how he would have fared as an inside forward, a position of more widespread influence. His fleeting performances there for England when injuries struck suggested it might have been his best position of all.
The beginning of the end for Tom Finney came in the 1958-59 season. He was again bedevilled by injury, appearing in just 16 of North End's league games. Although he recovered sufficiently to play in 37 the following season, equalling his most ever, Finney knew that his body needed increasing respite.
Finney requested, not unreasonably, a lighter training schedule to that of his younger teammates. Stanley Matthews was allowed this luxury at Blackpool and was still tormenting defences well into his forties. Preston's manager Cliff Britton refused Finney the privilege and in 1960, having just turned 38, Tom Finney retired.
In his final season Finney had scored another 17 league goals as Preston finished 9th. His last game, against an already relegated Luton Town, attracted just short of 30,000 people.
His loss was devastating to the club in every respect. The first home game of the following season, against Newcastle United, attracted a crowd of just over 17,000. At the end of the season Preston were relegated from the first division after trailing in bottom of the table. They have yet to return. For his wisdom Cliff Britton was given the sack.
Perhaps the biggest source of regret to the fans of the club was the fact that at the time of Tom Finney's retirement Preston had their finest ever youth team. This side reached the FA Youth Cup final and formed the basis of the 1964 team which missed out on promotion behind Leeds United and Sunderland as well as reaching the 1964 FA Cup Final before losing narrowly to West Ham United. The locals were convinced that with the genius of Finney to help them this side could have re-established the club in the top flight.
Fanciful? Probably not. In that same 1963-64 season Finney made a brief comeback to play for the Irish club Distillery when they were drawn against the Portuguese giants Benfica in the European Cup.
Finney excelled as the part timers managed a famous 3-3 draw in the first leg but decided against travelling for the return which saw Benfica cruise to a 5-0 win.
Of course Tom Finney also enjoyed a distinguished international career, earning 76 caps between 1946 and 1958. He represented England in three World Cup Final tournaments and scored 30 goals which made him his countries' leading goalscorer alongside Nat Lofthouse for a spell.
There were many great performances during that time. Finney scored on his England debut as Northern Ireland were crushed 7-2 in Belfast. He scored in the 10-0 win in Portugal and slammed in two belters as Italy were demolished 4-0 on their own soil.
Finney also scored four, including two penalties, as Portugal were beaten 5-3 on another occasion. It was his only senior hat trick, never managing one for Preston.
He also regularly destroyed the Scots, who couldn't say they hadn't been warned. Long before he was able to make his international debut Bill Shankly had told of Tom Finney's coming when hearing comments about the damage Stanley Matthews always seemed to inflict on their defence. Shankly assured his compatriots that another such demon was awaiting them in the near future.
In some respects Finney was lucky to have had Shankly as a colleague at Preston. While his talents could never be adequately relayed by television they found an effective and enduring champion in Shankly.
The incurably enthusiastic, but supremely knowledgeable, Shankly would never allow that he had seen Finney's equal. If he ever thought that one of his players at Liverpool was getting above his station he would use Finney as the ultimate yardstick to which they did not measure up.
Shankly also loved to say that his greatest claim to fame was having given Tommy Finney his first ever pass in league football. Finney was equally happy to acknowledge the fact while letting everybody know that it had been a "baddun". There is no doubt that he reciprocated Shankly's respect, however.
Another, slightly more surprising, admirer was Bobby Moore. When selecting the players for an imaginary England side from those he had played with during his career Moore solved the problem of who to play as the third member of his attack by selecting Tom Finney. Moore then went on to explain, in Jeff Powell's book The Life and Times of a Sporting Hero, how he had played with Finney on an FA tour of Australasia in 1961.
"Tom had been one of the giants of the game when I was a boy and had hung up his boots at Preston eighteen months before. As a brash young lad I couldn't understand all the fuss about bringing the old chap out of retirement on that tour. Then we kicked off. It was as if Tom had never been away. That lovely, easy control of the ball, the appreciation of the game, the finishing, much of the change of pace, it just unfolded in front of me. I'd never played with a winger like that and I never would. I was amazed by Tom Finney. He remains the last great England winger."
But respect was something Finney gained everywhere he went during his wonderful career and something he has continued to earn since it ended. Of course Tommy Finney is now Sir Tom Finney, although that title had long since been his in Preston before it was made official in the honours list.
There is no doubt that Tom Finney is one of the greatest of all English footballers. Where exactly to place him is, as always, a purely personal choice.
During his playing days he was regarded alongside Stanley Matthews as England's finest player, the debate as to who was better was argued long and hard by a generation of fans without ever being resolved.
Among players and managers, however, Finney would probably have been generally preferred. His game was acknowledged as being the more complete and the word "teamwork" was always placed against his name when the merits of both were being discussed.
When George Best subsequently emerged, Finney was the player he was most often compared with and the similarities in their play were striking.
Best was possibly a more complete dribbler than Finney, and he certainly had a body that was better equipped to handle the poundings they both took from opposition defenders, but Finney retained the advantage of being driven by a desire to see the team succeed. He also had a far better temperament than Best and was far more professional off the pitch.
In choosing between these two most people would probably find it more difficult to state a preference. To a manager, however, Finney would have been a more attractive proposition. These comparisons are almost impossible to resolve, however.
What is unarguable is that Tom Finney is right up there with the greatest players these islands have ever produced.
Compose your own list of the attributes which go towards making a great player. There are probably none on it that Tom Finney would not get a tick against. The "Preston Plumber" was simply one of the best, perhaps the best.