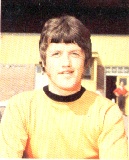 Peter Knowles
born Fitzwilliam. September 30, 1945.
There is no question that the story of Peter Knowles is one of English footballs' most unusual, even without the dramatic decision that brought a premature end to a career that was just about entering its prime.
Peter Knowles was the son of a Wakefield Trinity rugby league player and his principal interest as a youngster had been the 13 a side code in the winter and cricket during the summer. His principal talent, whether he liked it or not though, was for football.
It was a gift shared by his brother Cyril who would catch the eye of Middlesborough and later go on to represent Tottenham Hotspur with distinction for over a decade.
Peter, the younger of the two, was destined for Wolverhampton Wanderers. He was picked up by Wath Wanderers, a North Yorkshire amatuer side with strong ties to Molineux.
Mark Crook, the inspiration behind the club, had been a player with Wolves and had sent several fine players to Molineux, most notably Roy Swinbourne and Ron Flowers. Peter Knowles was the next youngster heading for the Black Country and he would not be the last. Both Bob Hatton and Alan Sunderland would prolong the connection in years to come.
At Molineux it was quickly evident that their latest recruit had a special talent. His gifts were natural, his chief assets being impeccable ball control, good balance and the knack of drifting past defenders with the ball at his feet. As his game developed he also showed himself to be a reliable finisher as well as a provider of chances. All in all Peter Knowles was shaping up to be a pretty complete footballing package.
He was something of a throwback. In essence Knowles was an inside forward, a player operating mainly in midfield but primarily as an attacking force. By the time he was challenging for a first team place, however, formations were evolving and the inside forward was becoming a thing of the past. Now players were regarded as either forwards or midfield players and this presented a bit of a problem as far as Knowles was concerned. He was not quite so easy to categorise. He was adept in both roles but it was difficult to say which one best suited his talents.
It was a problem the Wolves manager Stan Cullis was soon having to address. His side was beginning to slip from the position it had held since the war among the countries elite. Cullis badly needed to embrace the burgeoning talent of Peter Knowles within his faltering side. Knowles had just turned eighteen when he was handed his first team debut at Leicester City early on in the 1963-64 season. Wolves won 1-0 and Knowles then scored his first senior goal in the next game, a 2-2 draw at home to Bolton Wanderers.
This was a promising beginning, but it was not easy for the youngster to really break through in a side that struggled for any consistency. At times his silky skills made him look the perfect foil for the barnstorming centre forward Ray Crawford. He would also link well with the experienced winger Peter Broadbent. At other times, however, he looked somewhat fragile and could disappear from games. This came as no real surprise in a struggling side in his first season. Cullis remained apparently unsure of how best to use him and the season ended with Wolves 16th in the table and Peter Knowles still in the "highly promising" category.
The following season would see the fortunes of player and club head in different directions. Whereas Wolves' recent decline continued and eventually saw them relegated, Knowles would truly emerge as a player of undoubted class with his exciting displays being the obvious highlight of a disappointing season.
With the players' star rising while the clubs' began to dim it was perhaps not surprising that conflict would arise. It was not long before Knowles was handing in the first of several transfer requests. These would all be rejected in turn.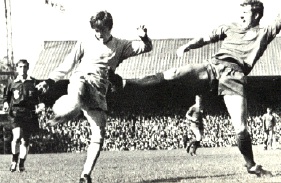 It is likely that the player was also unsettled by the sacking of Stan Cullis early on in the campaign. Knowles regarded Cullis highly and was acutely aware of the part he had played in his development as a player. Knowles had scored one of the goals in a 4-3 win over West Ham in the game before Cullis's departure. Under the new manager, Andy Beattie, Wolves seldom looked like saving themselves. Peter Knowles on the other hand was looking every inch a first division footballer as his club headed for the second.
Knowles managed six goals in the league but was more important as a schemer, making chances for others. On top of his natural ability the youngster was quickly becoming noted for his attitude. He played with a swagger and like many ball players could appear temperamental and moody, reacting to opponents and officials when he felt himself ill used. This did him no harm in the eyes of the Wolves faithful, however, and he was quickly becoming a terrace idol. Young, good looking, stylish on and off the pitch. In the age when football met rock'n'roll Peter Knowles was Wolverhampton's very own pin up boy.
Wolves did manage a decent FA Cup run despite their league struggles, reaching the quarter finals before falling to Manchester United. At least they went out with a bang, losing 5-3 at Molineux with Knowles grabbing one goal and Hugh McIlmoyle the other two. At the other end it was George Best getting one and Denis Law a couple.
Refused permission to leave, it didn't take long for Knowles to show that the second division was not really the proper stage for him to perform on. Early hat tricks in Molineux drubbings of Carlisle United and Derby County set him on the way to being the clubs' leading scorer. Despite missing a good part of the season through injury, Peter Knowles finished with 19 league goals. He also managed a couple as Sheffield United were demolished in the FA Cup to set up another meeting with Manchester United, this time in the 5th round. It was another cracker but another defeat for Wolves, 4-2 this time.
Despite having Knowles and the attacking qualities of McIlmoyle, Dave Wagstaffe and Ernie Hunt, Wolves could only finish 6th in the second divsion in 1966. The following season was a different story as Wolves managed promotion back to the first division as runners up behind Coventry City.
Peter Knowles' contribution was curtailed by injury but he weighed in with eight goals after figuring in around half the league programme. He also managed to achieve a degree of notoriety at this time after a game at Portsmouth which was featured on the BBC's Match of the Day programme.
Wolves recovered from two goals down to win with Peter Knowles scoring the equaliser. In his excitement he grabbed the ball from the back of the net and promptly booted it clean out of the ground. Needless to say the act led to scores of complaints from offended viewers and a contrite Knowles was also sent a bill for the price of the ball by Portsmouth FC.
Things now definitely started to happen for Knowles and, in keeping with the man, some were predictable and some were not. His return to the first division was booked and soon afterwards there would be international recognition in the shape of a call up to the England Under 23 team. Before that, however, Wolves would embark on a remarkable expedition that would actually bring Knowles his only winners medals in senior football.
An attempt was being made to "break" football in the United States and a league had been formed by the United States Association that was recognised by FIFA.
To try and generate more interest, the league invited clubs from around Britain to join a summer league where they would guest as one of the existing American teams. Therefore Wolves travelled to the States to compete as Los Angeles Wolves.Wolves came out on top in their section and then defeated Washington Whips (Aberdeen) in the play off final. Knowles opened the scoring in the first minute of an extraordinary game that Wolves ended up winning 6-5 with an own goal scored in the 36th minute of overtime.
Back in England Knowles' class was evident as Wolves returned to the top flight. He was only just turning 22 but he was already a polished performer. His influence was helped by the arrival of Derek Dougan. The Doog had come to Molineux at the back end of the previous campaign and helped carry Wolves over the line to promotion. His robust, old fashioned centre forward play provided the ideal foil to the clever probings of Knowles.
Dougan managed 17 goals and Knowles 12 as Wolves achieved safety with some comfort. Without their contribution, however, it would have been a much greater struggle. Peter Knowles' contribution led to his inclusion in the Under 23 side for victories over Wales and Italy. Early on in the following season he featured in another victory over Wales and a draw with Holland.
Other players featuring in the team at that time were Martin Chivers, Allan Clarke, Brian Kidd, Peter Osgood and Joe Royle. It was stiff competition and the ambitious Knowles was conscious of the advantages these players had in being at higher profile clubs.
Everybody had an eye on the approaching World Cup in Mexico when England would defend their world championship. Knowles was no different and he continued to seek a move from Molineux. He was now managed by Ronnie Allen but the answer was still the same, a definite no. Wolves had got Knowles to sign a six year contract as he was coming through the ranks and they were determined to hold him to it.
Wolves became a far more rugged, pragmatic outfit the following season as Bill McGarry took over the reins and although Dougan and Knowles could only manage 11 and 9 goals respectively this still represented half of the teams total for the season.In the summer of 1969 Wolves again headed off for America to compete in another summer league, this time representing Kansas City Spurs. Knowles was in top form scoring five of the clubs' goals as they again emerged victorious.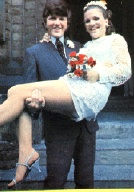 When he returned, however, Knowles was no longer the flambuoyant, ambitious extrovert of a year or so earlier. The young man who had harboured such a burning ambition to go to the World Cup now had a different set of priorities after being introduced to religion. Now he declared that "I shall continue playing football for the time being but I have lost my ambition. Though I still do my best on the field I need more time to learn about the Bible and may give up football."
Despite his changing values, Peter Knowles started the 1969-70 season in fine style, scoring in each of the first three games as Wolves began with four successive wins. They had only lost once in eight games when, after a 3-3 draw against Nottingham Forest, Peter Knowles did indeed turn his back on football.
Knowles' decision to quit Wolverhampton Wanderers to pursue his beliefs as a Jehovah's Witness shocked many but he evidently never repented. The decision obviously had a massive effect on his club and their fine start was wasted in his absence as Dougan proceded to get himself sent off twice in quick succession to earn an eight week ban.
Wolves would retain Knowles' registration for well over a decade before finally accepting that their golden boy was not coming back in the summer of 1982 when they released him on a free transfer. There were no takers for the 36 year old.
There was some added poignancy in the fact that the club was in real danger of going out of business when the announcement was made and it was his old partner Dougan who was heading the consortium that would eventually save the club at the last minute.
Although Peter Knowles' most recent claim to celebrity is in being the subject of the Billy Bragg song "God's Footballer" the Wolverhampton fans of the 1960's know the real truth about why he should be remembered.
Peter Knowles Career Statistics
CLUB Wolverhampton Wanderers GAMES 174 GOALS 61