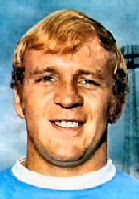 Francis Lee
Franny Lee – Player profile
Born Westhoughton, April 29, 1944
One of the most enduring images of the 1960's and 70's is that of the barrel chested Francis Lee surging at the heart of an opposition defence and unleashing a tremendous drive for goal. Instantly recognisable, impossible to ignore, Lee was one of those players who you just had to either love or hate.
Although short and stocky Lee combined power, pace and unflinching bravery to become one of the countries leading forwards for a decade. Never unduly complicated he was undeniably effective, which was very evidently his priority whenever he stepped onto a pitch.
Born in Westhoughton Francis Lee began his career with his local team Bolton Wanderers, making his debut for them in the first division at the age of sixteen and before he had even signed a professional contract.
Despite the young forwards obvious talent and enthusiasm Bolton were a club in decline and suffered relegation from the top flight in 1964. Lee spent the next three seasons terrorising second division defences before, frustrated at the clubs lack of progress, he requested a transfer early in the 1967 season.
This request was promptly refused but Lee was not going to be bullied by the BWFC board of directors any more than he was by the strapping centre halves he came up against every week and promptly went on strike. Within weeks he had won his point and had moved to Manchester City for a fee of £60,000.
This would prove to be a perfect move for both the player and the club. City had suffered a miserable time over the past decade culminating in a three year spell in the second division but they were now back in the top flight and had put together a fine attacking side boasting the likes of Colin Bell, Mike Summerbee and Neil Young. The dynamic new signing would provide the extra thrust necessary to turn a very good team into a great one.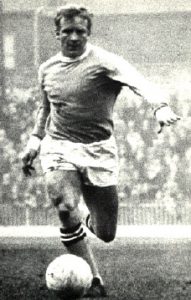 At the end of his first season at Maine Road City were crowned league champions for the first time in 31 years, dramatically edging out neighbours Manchester United during the last couple of weeks of the season.
This success was the start of a golden spell for Francis Lee as he went on to claim winners medals in the FA Cup, League Cup and the Cup Winners Cup, scoring the decisive penalty in a 2-1 victory over Gornik Zabzre, before topping the first division goalscoring chart in 1972 with 33 goals, albeit with the help of a record 13 penalties.
At this time some of the spark seemed to desert Lee, especially once it began to seem clear that his international career was over. Lee had won his first cap in 1968, gone to the 1970 World Cup in Mexico and ended up with 27 caps in total. He was one of the first casualties of a painful humbling suffered at the hands of West Germany in a Wembley European Championship quarter final. England fell to a 3-1 defeat and although Lee was the man who prodded home his tenth international goal he was never selected to play for his country again.
In truth Lee's all action, aggressive style had never convinced on the international stage, particularly during the finals in Mexico when England's impotence up front was one of the main reasons behind their losing their crown as world champions.
A new challenge, something Lee probably needed, presented itself when Derby County paid £100,000 to take the striker to the Baseball Ground in 1974 and the rejuvenated Lee turned this into a very sound investment. Just as had been the case at City seven years earlier Lee helped his new club to the league title in his first season there.
Lee would only play on for one more season after this triumph with the Rams and it proved a disappointing one with defeats to Real Madrid in the European Cup and Manchester United in the FA Cup semi finals depriving him of a glorious swansong.
Nevertheless Francis Lee remains one of English footballs' most recognisable characters and whether it is seeing him flying through the air with the prowess of Bob Beamon to win a penalty, charging across the Maine Road pitch like Ernie Wise's chubbier brother after scoring one of the goals of the seventies for Derby County or chasing after Norman Hunter to give him a good hiding after they had both been sent off at the Baseball Ground one afternoon there is never any doubt who you are watching when Francis Lee appears on your television screen.
| | | |
| --- | --- | --- |
| CLUB | GAMES | GOALS |
| Bolton Wanderers | 139 | 92 |
| Manchester City | 249 | 112 |
| Derby County | 62 | 24 |
| England | 27 | 10 |
| Total | 477 | 238 |