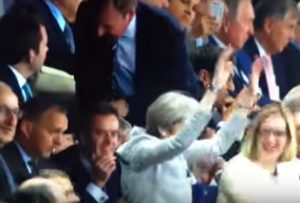 France 3-2 England: Surprisingly Entertaining Kick About
England lost to 10 man France, but nobody really cares. Considering this was no more than a low key end of season kick about, with an atmosphere to match, it was surprisingly watchable. We're not reading too much into the result or the performance. We're just glad there were some goals.
The pre match was quite touching. A very well respected minute's silence from two countries who both know the horrors of terror attacks all too well. This was preceded by the rare and welcome sight of both sets of fans singing each other's anthem. They also did their best with the rendition of Don't Look Back In Anger. The gesture was well meant and appreciated, although it's clear that the brass band version of the song doesn't sound quite the same.
Onto the match and it was a game that swung both ways, as it were. We got a surprise early lead from our best move of the match. Kane tapped in but it was Sterling's back-heel that made the goal. France's equaliser came from poor marking, their second came from sloppily giving away possession. There wasn't a lot that Tom Heaton could have done about either goal. In fact they were both tap ins from rebounds from his saves, although he did look a bit shaky at other times.
Just after half time came the England lifeline, as Dele Alli was inexplicably allowed to latch onto his own flick on. He was clipped by Varane as he ran into the box, but to be fair we felt it wasn't deliberate and the red card was a little harsh. Still, who are we to argue with the new video ref!
Kane dispatched the penalty and from that point you'd expect the 11 men to go on and win. Instead they sat back and looked like they were happy with a draw. France continued to look the more dangerous, and if it wasn't for a couple of great stops from Jack Butland they could have had more. The winner from Dembele, when it came, was completely deserved.
Despite defeat to 10 men, we came away feeling relatively positive. There were a few reasons to be cheerful, not least the fact that it wasn't the utterly dreadful game we'd feared. Now for a break……….no, what's that? We can watch the Confederations Cup? Don't mind if we do….
Things We Liked
Well behaved and respectful sets of fans. More of that please.
Harry Kane back on the scoresheet for England. More of that too please fella.
The formation. 3-4-3 or 5-3-2 or whatever you want to call it, suits the players we have much better. It may be in vogue right now but in fact it takes us back to the days of Venables and Hoddle when we played our best football of recent times. This should be more than an experiment, it should be the default from now on.
Phil Jones looked like an international footballer.
Jack Butland is all round a better keeper than Joe Hart. We've been banging the drum for a while now. He needs to be England's new first choice #1 starting in Malta.
Kieran Trippier was quietly competent and his cushioned pass to Sterling in the first half was top class.
Theresa May joining in the mexican wave. A bit awkward but it was probably her first one and at least she tried.
Things We Didn't Like
A central midfield of Dier and The Ox. Didn't look great on paper, and reality was no better. You can have the formation right but you still need the personnel.
Kyle Walker coming on at left back. Don't get it. Why?
All 3 goals coming from defensive errors.
Failing to take the initiative and try to win the game win a man advantage. Shame.
Theresa really should have started the mexican wave, not just joined in.
Enjoy your summer, we'll see you in Malta. Ole!