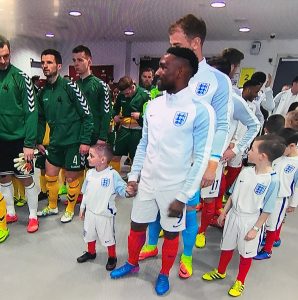 England 2-0 Lithuania: Comfortable, Routine & Predictable
Gareth Southgate's first competitive match as permanent England manager ended in a 2-0 win. Probably the most predictable result imaginable.
The script was written from the start, and the actors played their parts to perfection. Lithuania would sit back and try to frustrate the hosts. England would patiently play the ball around trying to work an opening and break them down. Having done so, they would just continue to sit comfortably, expending minimum effort without really trying to put their opponents to the sword. One more goal would inevitably follow at some point. That would do. We could all go home satisfied yet unfulfilled.
I have no intention of complaining though. When you get exactly what you expect, how can you possibly complain? The priority was the 3 points, and the march towards World Cup qualification. We got them, job done.
As Southgate correctly pointed out in his post match interview, we were too slow in possession after the first goal. That has often been our problem, and it can cost us when we don't score early. We need to improve this, become quicker and more incisive, and learn how to break teams down.
Michael Keane was the highlight for me, and should have got Man of the Match. His distribution stood out, as he wasn't especially tested defensively. But he's made the step up from Premier League to international level with ease. Van Gaal's decision to let him go for a pittance seems increasingly bizarre. This lad has a big future for England.
Jerman Defoe got the goal, doing what he does best and getting on the end of a chance in the box. I still feel he shouldn't have been included in the squad, but to be fair he did was he was asked to do. Although as ever he contributed nothing outside the box, and I can't remember him touching the ball apart from the goal.
In the second half, the introduction of Jamie Vardy and Marcus Rashford did inject a bit more life into England. Vardy finished a nice move to get the second goal, and really should have added a third when he got on the end of a fine through ball from Rashford but lifted in over the top.
Rashford was typically bright, quick and full of ideas. They don't all come off, but he's never afraid to try something again. That's the sort of attitude that England have often lacked. We've been too much safety first and unwilling to take a risk. Rashford adds something that most other players don't. It's a shame his petulant handball and later dive slightly marred his performance, but he's a young lad so we'll let him off.
Overall, satisfactory. Job done, no lessons learned, but points in the bag. Onto the next one…
What We Liked
Bradley Lowery as mascot.
A well observed minute's silence for Westminster victims.
Michael Keane's competitive debut.
Marcus Rahsford's contribution on the ball.
The fact we had £5 on 2-0 at 6/1.
What We Didn't Like
Defoe as MOTM
Slow tempo in the first half after the goal.
Joe Hart's near calamity moment.
Marcus Rashford's handball and dive.