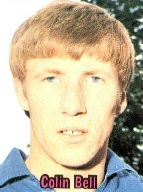 Colin_Bell
Career Profile:
Born Hasleden, February 26, 1946.
There is no doubt that Colin Bell is recognised as the best player Manchester City have ever had by the vast majority of the teams' supporters and there seems little reason to question this consensus.
Bell was, after all, the top man in the clubs' greatest ever side and went on to establish himself as a fixture in the England team, eventually taking over as captain from the peerless Bobby Moore. Outside the blue half of Manchester, however, Bell is not widely considered as one of the absolute greats of English football, rarely, if ever, chosen in the all time XI's we all love to indulge in from time to time.
Where then does Colin Bell fit in the scheme of things among England's footballers?
Colin Bell began his league career with Bury, who had spotted his potential playing for Horden Colliery in his native north east. Bury were a second division side at the time and the rangy, teenage inside forward went straight into the first team and stayed there.
Bell spent the best part of three seasons at Gigg Lane in a constant battle against relegation and yet still managed a goal every three games, a contribution which undoubtedly kept the club in the second division.
There was inevitably widespread interest in the youngster who not only scored consistently but had an apparently limitless reserve of energy. Colin Bell was scarcely ever still on a football field and specialised in driving runs from midfield, either carrying the ball or getting up in support of his forwards.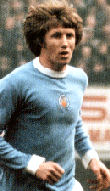 One of the interested clubs was Manchester City, whose assistant manager Malcolm Allison was particularly keen on this raw, exciting talent. City were only a second division side themselves, however, and not exactly flush with money.
Allison would spend an anxious few months watching Colin Bell among all the other interested parties waiting for the money with which to buy him to materialize. According to the extrovert Allison, he spent this time tearing Bell's game to pieces within earshot of anyone he could get near to in the hope that they would not come in with a bid.
Whether truth or fiction, Colin Bell was still a Bury player in March 1966 when City, on the verge of promotion to the first division, stumped up their record fee of £45,000 to take the midfielder to Maine Road.
Four goals in eleven games helped City clinch the second division title and all at once the 20 year old was in the first division. Colin Bell's contribution the following season as City fought hard to establish themselves in the top flight was crucial, ending up the leading scorer with twelve goals as the team finished fifteenth.
Without these goals, not to mention the all round involvement which was such a natural aspect of his game, City might have struggled to survive this vital first season back in Division One.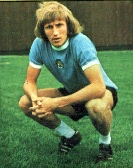 His absence was certainly felt at his former club. £45,000 might have been a lot of money to Bury but there was no way it would enable them to replace Bell, not with one, two or even three players and they were relegated.
City now moved on apace. The signing of the robust forward Francis Lee to complement the clever Mike Summerbee and the driving force of Colin Bell transformed the team into a top class outfit. Suddenly the club found themselves in a head to head battle with their neighbours United for the league title, a battle which saw the Blues famously prevail on the final day of the season after a 4-3 win at Newcastle United.
League Champions only two years after climbing out of the second division. It was a tremendous achievement and Colin Bell's legendary status at Maine Road was already guaranteed.
Outside of Manchester the leggy dynamo was capturing attention as well. Within football Bell became widely nicknamed Nijinsky after the great racehorse, it was a fitting moniker. His performances brought him recognition from Alf Ramsey, who handed Bell his England debut against Sweden at Wembley in May 1968.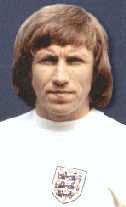 City's success continued, although they would not challenge for the league title again for another four years, despite the fact that Bell continued to plunder goals from midfield.
Bell managed to reach double figures in each of City's first six seasons back in the first division despite latterly being troubled by a series of niggling injuries which became an increasing irritation.
In 1969 Colin Bell picked up an FA Cup winners medal and followed that up a year later with both League Cup and Cup Winners Cup medals. In the double cup winning year Bell scored twelve cup goals to go with the eleven he managed in the league campaign. The League Cup run the club enjoyed became the stuff of Maine Road dreams. Liverpool, Everton and Manchester United, 4-3 in a two legged semi final, were all knocked out before West Bromwich Albion were seen off at Wembley.
City's midfield inspiration also looked set to be a vital player for England as they got ready to defend their Fifa World Cup crown in Mexico that summer. Bell had starred on England's tour of South America the previous summer, scoring the goal which threatened to bring a famous win in Brazil before two late goals condemned a very tired side to defeat.
He had also scored the goal in a fine 1-0 win in Holland during the run up to the finals. As much as anything it was felt that Bell's incredible stamina would be invaluable in what would be gruelling conditions in the heat and altitude of Mexico. As it transpired, however, Colin Bell's contribution would be limited to that of substitute, and a futile one at that, Alf Ramsey seemingly incapable or unwilling to grasp the concept of replacements.
With the retirement of Bobby Charlton from the international set up after these finals Bell finally made a place his own in the national side and his increasing importance and standing was clearly demonstrated when Ramsey handed him the captaincy when Bobby Moore was eventually left out.
City, however, were stalling in their progress although Bell himself kept on churning out performances, goals and clocking up the hard yards with a vengeance.
There was dreadful disappointment when England failed to qualify for the 1974 World Cup finals in West Germany. Colin Bell, at 28, would have been at his peak in that tournament and perhaps would have been able to become the legend at international level that he already was, and remains, with his club.
Another disappointment came with a 2-1 defeat by Wolves in the League Cup final, although Bell did have some consolation in scoring City's goal. It looked as though Bell might be able to put these setbacks behind him and go on to further glories as he hit perhaps the richest vein of form of his career.
In the 1974-75 season Bell was ever present in the league for City and plundered fifteen goals. He carried this form over onto the international stage as England, under new manager Don Revie, looked ready to embark on an exciting new era. There were three outstanding performances inside a year which seemed to mark England down as a world class side again.
Firstly Czechoslovakia were hammered 3-0 in a European Championship qualifier at Wembley in which Bell bestrode the pitch and scored twice.
Then the world champions, West Germany, were soundly beaten 2-0 and Scotland were put to the sword 5-1 in the Home Internationals, Bell scoring in both of these games also.
All this hope and expectation was to vanish on a muddy Maine Road pitch the following winter as City were handing out a comprehensive beating to neighbours United in the fourth round of the League Cup.
In the course of this 4-0 drubbing Bell, checking back inside after a typical burst through the middle, was caught by the flailing boot of Martin Buchan. The contact was compounded massively by the fact that Colin Bell's standing leg had lodged in the rutted turf and was not able to "give" as the player fell awkwardly.
The injury was severe with damage to artery and blood vessel. Worst of all, the extent of the damage was not initially diagnosed and when Bell attempted a comeback towards the end of that season clotted blood from the original injury caused a cartilage to splinter and the midfield master would be out for a further eighteen months.
His international career was over and England suffered badly, losing not only their strongest experienced player to injury but also their two brightest youngsters around the same time, Kevin Beattie and Gerry Francis.
Perhaps the significance of these losses is shown by the fact that Czechoslovakia, so comprehensively thumped at Wembley, went on to not only qualify at England's expense but to win the European Championships themselves in 1976.
Although Colin Bell made an emotional return as a half time substitute against Newcastle United on Boxing Day 1977, thereby allowing a host of young City fans a glimpse of the legend, and inspired the team to a 4-0 win, the real Colin Bell never truly returned and by the end of the 1979 season his career was over.
Which leaves the question, how good was he?
Bell's gifts were manifold, he was more than a good engine, more than someone who could pop up from midfield with a goal. Perpetual motion he may have been but there was always a purpose behind the running.
Always available, a good user of the ball who was capable of supplying the killer pass and a willing assistant to the defence Colin Bell had all the attributes required of the top midfield player.
In terms of his England career it was probably only timing that prevented him making an even bigger name for himself. Arriving on the scene a year or two after Martin Peters and Alan Ball, and with Bobby Charlton long established as a national institution, Bell was always going to struggle to win a place in a side generally doing well.
Given the similarities in his game to that of Steven Gerrard, however, it is possible that if Martin Peters was, as Alf Ramsey famously reckoned, ten years ahead of his time then maybe Bell was forty years ahead. Then when he did win a place, of course, he found himself in a side on the wane.
Another possible factor stopping Colin Bell from becoming a national icon was his acute shyness, which disappeared on a football pitch but accompanied him almost everywhere else.
A man of his ability who only wanted to be noticed every Saturday on the football field, it's no wonder the City fans loved him. Respected throughout football and revered by everyone connected with Manchester City, I think Colin Bell MBE, himself, will be more than happy with that.