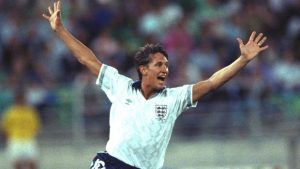 Best Ever England XL (In My Lifetime)
So it's time to answer the burning question – the one that's been keeping you up at nights. What is the greatest England team of the last 30 something years?
As you might imagine, this post comes after yet another lengthy pub discussion regarding all time greatest players. Everyone has their opinions and all are equally valid, this one just happens to be mine.
Just one caveat: in order for a player to qualify, you need to have seen them play. Without giving away my exact age, the first tournament I watched in full was Mexico 86, so only players that played at that tournament, or at any time afterwards, can be picked. So before you start asking where Moore & Charlton are, that's why they didn't make it.
Right then, here goes….
All Time Greatest England XL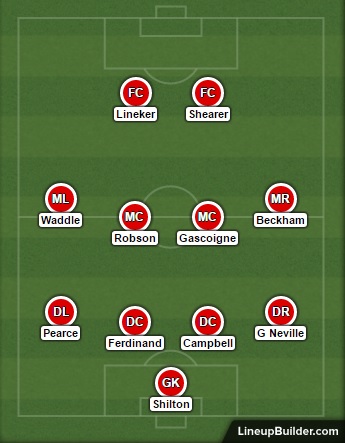 So I guess I'd better explain the reasoning behind this then.
Peter Shilton – Despite his advancing years, Shilts was superb in Italia 90. I felt he organised the defence well, didn't make mistakes, and made big saves when it mattered. Anyone who gets that many caps has to be pretty decent, unless they're Scottish.
Gary Neville – Certainly not the most talented player England have ever had, but he offers consistency and discipline, plus the ability to put a decent cross in. We've never been blessed with World Class right backs, but Nev is the best I've seen in the position.
Sol Campbell – In the early 2000s, especially in Japan/Korea 2002 (in which he made the all star team), our major strength was our defence. Sol was a big part of that. He was a fearsome man mountain and if I was an opposition striker I would not feel comfortable having Sol stood behind me for 90 minutes.
Rio Ferdinand – As with Sol, he was at his peak when England's defence was at theirs. A top class defender, and decent on the ball. Remember him for his football, not his punditry.
Stuart Pearce – Some people will argue that Ashley Cole was the more accomplished player, but my team is made up of leaders not dickheads. Psycho genuinely cared about playing for England. That means you get 100% commitment, hard tackles, motivation and inspiration.
David Beckham – Well, obviously. One of the few genuinely World Class talents we have had in recent years. Despite all his money and fame, Becks genuinely cared about playing for England. Perfectly happy to chunder pitch side and then run back on and get on with the game. Capable of taking charge and dragging the team through if things aren't going well. Oh, and he takes a decent free kick too.
Paul Gascoigne – Could do things with a football that nobody else would even bother trying. Gazza provides creativity and a goal threat from centre midfield. I'll accept arguments about some of my other choices, but the only excuse for you not having Gazza in your all time team is that your'e too young to have seen him play.
Bryan Robson (c) – As I mentioned, I've picked a team full of captains. But of that team, Robbo is my captain. A totally committed box to box midfielder, who is equally likely to be putting in a last ditch tackle in his own area or popping up to finish a move in the opponent's. His career and was badly affected by injuries. When he didn't play, he was very, very badly missed.
Chris Waddle – I loved watching Waddle play. A scruffy, long haired maverick with an untucked shirt and shinpads that looked like they were just an inconvenience. Able to beat a man with a simple drop of the shoulder, and could also deliver a decent cross. If only THAT long ranger had gone in against Germany instead of hitting the bar…
Alan Shearer – Another who would have had plenty more caps and goals if it wasn't for injury problems. Others may have scored more goals, although 30 from just 63 caps certainly isn't bad. But Shearer has to be in the team, because in the big games, against the big teams, he turned up. Strong in the air and on the ground, capable of holding up the ball, and a very gifted finisher. If you need a goal in a big game, who would you want that chance to fall to?
Gary Lineker – Popular opinion is that Lineker was just a poacher, but watch him play and you realise he had much more to his game than that. He was perfectly capable of running the channels, or pulling out wide to find space. His touch was decent too. But yes, his main strength was as a goalscorer, and again he did it when it mattered. In tournaments, in big games, against big teams, Lineker is the man you could rely on. Hell, we had to! But he delivered time and time again. He's the best striker I've ever seen play for England.
Subs – Seaman, Walker, Scholes, Hoddle, Barnes, Sheringham, Owen
And yes that is Des Walker. I so sowwy Kyle…..
Pick Your Team
IF you agree, disagree or think I'm an idiot – let us know! Leave your comments below. Or if you want to play about and come up with your own lineup, the widget below is interactive. Have fun with it.