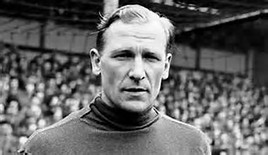 Bert Trautmann
Born Bremen, Germany. October 22, 1923.
The story of Bernhard Carl Trautmann is obviously not a run of the mill tale of your average Football League custodian.
From a remarkable, and extremely belated, introduction into league fotball, Bert Trautmann would go on to enjoy an impressively long and accomplished career.
Born in Germany between the wars Trautmann was brought up as one of the Hitler Youth and subsequently became a paratrooper during the Second World War. Trautmann drew one of the shortest straws of the entire war in being sent to fight in Russia and spent three years fighting mission impossible in some of the most fearsome conditions imaginable.
He was captured by the Russians at one point but managed to escape and later on in the war would also fall into the hands of the Americans and the British.
Trautmann had believed the Americans were going to execute him but instead they simply let him go while, apparently, he was greeted by his British captors with the words, "Hello Fritz, fancy a cup of tea?"
It was a fateful moment for the young German. Sent to a Prisoner of War camp at Ashton in Makerfield, near Wigan, Trautmann often excelled in camp football matches although normally as an outfield player.
Having gone into goal when there was no-one else prepared to do it the rangy Bert Trautmann proved himself a natural in that position and, staying in England after hostilities were over, he began playing non league football for St Helens Town.
When his side played Manchester City in a friendly in 1949 Trautmann impressed so much that the first division side immediately signed him and wasted no time in putting him into their first team. Despite his relative inexperience he was already 26 years of age.
In his first season with the club City were relegated from Division One but, unusually at Maine Road, this was more the result of problems in attack rather than defence. There certainly weren't many fingers being pointed at the new goalkeeper and by the end of the season Trautmann had established himself as the first choice keeper at the club.
Hardly surprisingly it had been difficult for Trautmann in the beginning as an ex POW but antagonism towards him faded remarkably quickly.
There were voices raised about his signing throughout the country and initially the City supporters themselves protested against his appointment. There was also the added pressure of having to replace Frank Swift in goal.
Not only was Swift perhaps the greatest goalkeeper to ever represent City or England he was undoubtedly one of the most popular footballers that ever lived.
Considering what he had already lived through it is hardly surprising that Trautmann was not unduly daunted by his position and the quality of his performances soon silenced the dissenting voices at Maine Road. The fans, not unnaturally, quickly appreciated the value of having such a keeper behind their struggling side.
Bert Trautmann was a tall, imposing figure but he was also lithe and athletic. He was more than capable of resisting the physical pounding that keepers had to endure in those days and his agility and lightening reflexes allowed him to repel efforts on his goal that most would have been only able to stand and admire.
To all intents and purposes he looked a goalkeeper "Made in Britain" without any of the traits of most overseas goalies which so amused the British public. He would catch rather than punch and preferred to remain inconspicuous behind his defence until the situation demanded otherwise.
Perhaps he was different to most British keepers in his unusually constructive use of the ball. Trautmann did not rely on the punted clearance and was just as likely to use a quick throw out to one of his half backs or inside forwards to start a counter attack in motion.
Having quickly overcome most local prejudices Trautmann still had to contend with the crowds elsewhere. His one real concern on this score was the reception he would receive on visiting the capital, which had obviously suffered the brunt of the German war effort.
His first appearance in London came at Fulham and after a stirring display in a 1-0 defeat both sets of players lined the entrance to the tunnel to applaud Trautmann off while the crowd offered him a standing ovation. The Germans' future in England was secure.
City won promotion back to the first division at the first attempt in 1951 as Division Two runners up and Berrt Trautmann was ever present. The team conceded only seven goals less than they had when suffering relegation the season before but obviously found goals much easier to come by in the second division.
Back in Division One City would quickly develop into the type of side we have long since come to associate with the club. Geared to attacking football, sometimes brilliant but maddeningly inconsistent.
This ensured that there was scarcely a dull game for Trautmann but his performances were seldom less than top class.
In six seasons up to and including 1955-56 Trautmann missed only five league games, a tribute to his consistent excellence and also his durability.
During this time Trautmann developed into perhaps the finest goalkeeper playing in English football. Most people would have probably chosen him over the regular England keeper, Birmingham's Gil Merrick.
There was no chance of Bert Trautmann gaining international recognition, however, as West Germany stuck to a policy of only picking players from their own league. So although Trautmann did join their party for the 1954 World Cup finals in Switzerland it was only in the role of interpreter as his country shocked football by beating Hungary in the final to capture the trophy.
After three seasons struggling to establish themselves in the first division City enjoyed a couple of excellent seasons in the mid 1950's. They finished 7th in Division One in 1955 and 4th the following year as well as making it to the FA Cup final in both seasons.
In the 1954-55 competition a 3-1 win at Derby County in the 3rd round set City on the road to Wembley. They would get there without conceding another goal. The highlight of this cup run was a magnificent 2-0 victory over Manchester United in the 4th round with the big German again outstanding.
After that City also knocked out Luton Town, Birmingham City and Sunderland without being breached.
This run of clean sheets was quickly broken in the final, however. Up against Newcastle Trautmann conceded what was then the fastest FA Cup final goal, Jackie Milburn glancing a header past him after just 45 seconds. This was more the responsibility of his defenders, however, who had managed to leave Newcastle's obvious dangerman completely unmarked.
Having gone a goal down City then went a man down when they lost their full back Jimmy Meadows to injury.
At this stage a Newcastle landslide was on the cards but Bert Trautmann kept his side in the game with a series of breathtaking saves and brave blocks.
Inspired City rallied and equalised shortly before half time.
The second half saw Newcastle make their numerical advantage tell, however, and after all his earlier heroics Trautmann had to accept some responsibility for the next, crucial goal.
Bobby Mitchell was sent clear in acres of space but at an awkward angle and Trautmann edged from his line anticipating a centre. Whether Mitchell went for goal remains unclear but the ball certainly fizzed through the gap at the keepers' near post as if sent by design.
There was no way back for the ten men a second time and City would eventually go down 3-1.
City earned themselves another crack at the cup final in 1956 after defeating Blackpool, Southend United, Liverpool, Everton and Tottenham Hotspur.
This time City would win the cup and Trautmann would earn immortality. It was not for any outstanding save on a day when City were generally in control but for yet another example of his remarkable bravery and courage.
City were leading 3-1 with around 15 minutes remaining when a low centre came arrowing across the six yard line. It looked odds on a goal as Peter Murphy came storming onto the ball but Trautmann was off his line in a flash, plunging headlong at man and ball.
He claimed the ball cleanly but the collision with Murphy was unavoidable and left Trautmann groggy and in severe pain.
After treatment with smelling salts and a wet sponge Trautmann carried on although he looked in obvious discomfort as he constantly put his hand to his neck, as if to make sure his head was still attached.
3-1 was the final score and Trautmann collected his winners medal with his head leaning painfully to one side and the man himself in enough pain to admit that he had a "stiff neck".
At first medical opinion agreed with this diagnosis but when the pain persisted and Trautmann went for another x ray three days later it was discovered that his neck was actually broken.
Bert Trautmann's heroics that season earned him the Footballer of the Year award, a notable honour and the first time it had been won by a foreigner.
From these wonderful heights, however, Trautmann would be plunged into a tragic low when his young son was killed shortly afterwards after being hit by a car. Ultimately this would also lead to the break up of his marriage and Trautmann was unable to maintain the high standards of performance that the supporters had become accustomed to.
Trautmann played in only half of the clubs' games during the 1956-57 season and with the player now in his mid 30's there were many prepared to write him off.
City slumped back into the lower reaches of the first division and the manner in which they surrendered their FA Cup crown was typical of their season. They were drawn away from home at Newcastle in the 3rd round and battled their way to a fine 1-1 draw.
In the replay, however, they managed to let a three goal lead slip away and eventually lose 5-4 even though Newcastle were troubled by an injury to one of their men and effectively playing with ten. Trautmann did not have one of his better games.
Question marks were still being asked about Trautmann the following season although he featured more regularly during a remarkable campaign.
City climbed back up to 5th in the table and managed to both score and concede a century of goals. Despite leaking all these goals the improvement in Trautmann's form was marked and he would remain a virtual ever present during the next four seasons, conceding plenty of goals but saving his side on even more occasions as City became increasingly brittle in defence.
With Bert Trautmann now approaching 40 it was obvious that the club would be considering replacing him, even though he was still performing to a high standard of excellence.
Indeed a couple of seasons earlier Trautmann had been chosen to represent the Football League, another notable honour and again unique for a foreigner. As someone denied selection for his country Trautmann was very proud of this achievement.
When City did finally see fit to replace him with Harry Dowd in 1962-63 they were immediately relegated and after a few further appearances in the second division Trautmann left Maine Road in 1964.
The respect and popularity Trautmann had gained during his career was amply displayed by the turn out for his testimonial game at Maine Road.
The official attendance was given as 48,000 although a more accurate estimate is believed to have been around the 60,000 mark for the game between Manchester and England XI's. It should also be remembered that gates at Maine Road were just about at their lowest ebb since the war at that time.
Trautmann tried his hand at management with Stockport County but without success. He then became an important figure helping the development of football in Africa and has latterly worked on enhancing the relationship between Britain and Germany.
Bert Trautmann was awarded the OBE in 2004 and is still an extremely active individual even in his mid 80's. Would anyone have expected anything less?
Bert Trautmann's career appearances: Manchester City – 508 games