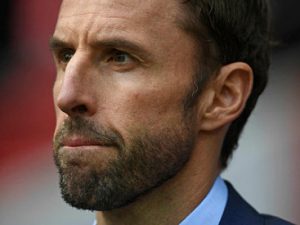 Only Applicant Gets Job – Welcome Gareth Southgate
So Gareth's got the job on a full time basis, it has now been confirmed. Southgate only had to perform with any degree of competence during his caretaker period in order to get the full time gig, since nobody else actually wanted the job.
But to be fair, perform with competence is exactly what he did. Seven points from nine, and a creditable draw with Spain is a decent enough return. And while it wasn't always convincing, the results are hard to argue with. Any new manager needs time to introduce his own style and ideas, and we can only hope that when Southgate has done that, things will continue to improve. Cast your mind back to the summer, and that's basically the only thing that can happen. It simply doesn't get much worse.
In theory he ticks all the boxes. Well spoken, well liked, well respected. Former player with plenty of international experience, including in a (by our standards) successful team. Cut his teeth with the Under 21s, now making the natural step up to the senior job. That's what's supposed to happen isn't it? The system works.
Many people seem to be a little underwhelmed by the appointment, but I think that is more due to the lack of alternatives than the quality of the successful candidate. Yes it would be great if we had 5 or 6 quality options to pick from, but we don't. We only had one, but that doesn't mean that one won't be a success.
What I hope to see most from Southgate is a willingness to adapt. I don't want players picked on reputation, or shoehorned into a team to accommodate underperforming has beens. Let's adapt to the opposition, and pick the best players to play in the best formation to win the game. If that means ruffling a few feathers or upsetting senior players then fine, fuck em. Representing England is an honour not a right, and it has to be earned. Being a team player includes accepting that you can't always be in the team.
Good luck Gareth. Let's hope for a change in fortune in time for World Cup 2018!